During spring break, our family of 6 decided to hit up Stanley Park. We are camping in Banff and Jasper this summer and need to 'practice' being out in public all together.
I'm joking. But mostly I'm serious.
After driving the loop around the park to gain our bearings, our first stop was the hollow tree. Believed to be about 1000 years old, this tree remnant is the largest left in the park. As I age, these types of facts are more and more interesting to me.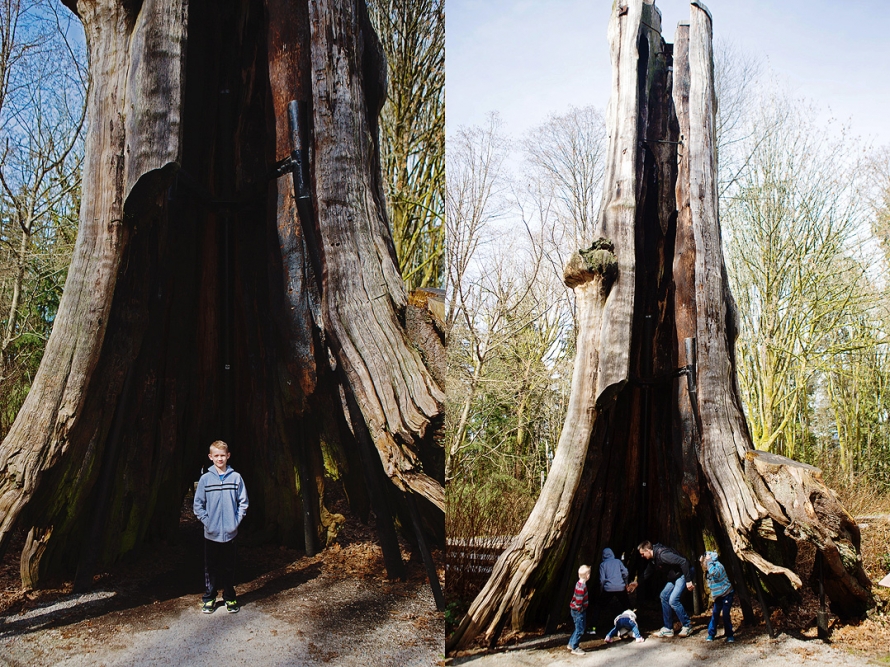 Mattias, age 7, is interested in photography and has learned how to focus on DSLR camera and takes a decent photo. He snapped this one of Art.
We stopped at Second Beach for lunch.
Self-timer photos. Camera propped on camera bag on stroller.
The source of Kate's delight is a seagull.
The beach.
Chasing the seagull.
Off to the first playground at the park.
You really have to follow this girl around. She loves to explore.
I may frame this one of the 3 boys. I love the gnarly tree (and the kids).
Then we were off to visit the totem poles.
Noah loves learning about the First Nations and he insisted that we discuss the story of each totem pole.
Across from the parking lot from the totem poles was a beautiful view of the city.
This one also might be a framer.
Then we walked the seawall for a bit.
Back in the warm van, Kate thought she should drive.
Then to Café Crêpe for dinner. Yum.
Watching our crepes being made.
Fun selfies.
Mattias thought that it was so cool that the crepe place was next to the Orpheum where he had visited on a field trip earlier this year.
We still had an hour of parking left so we wandered the streets of Vancouver. Mattias pushed the stroller through 'rush hour' pedestrian traffic.